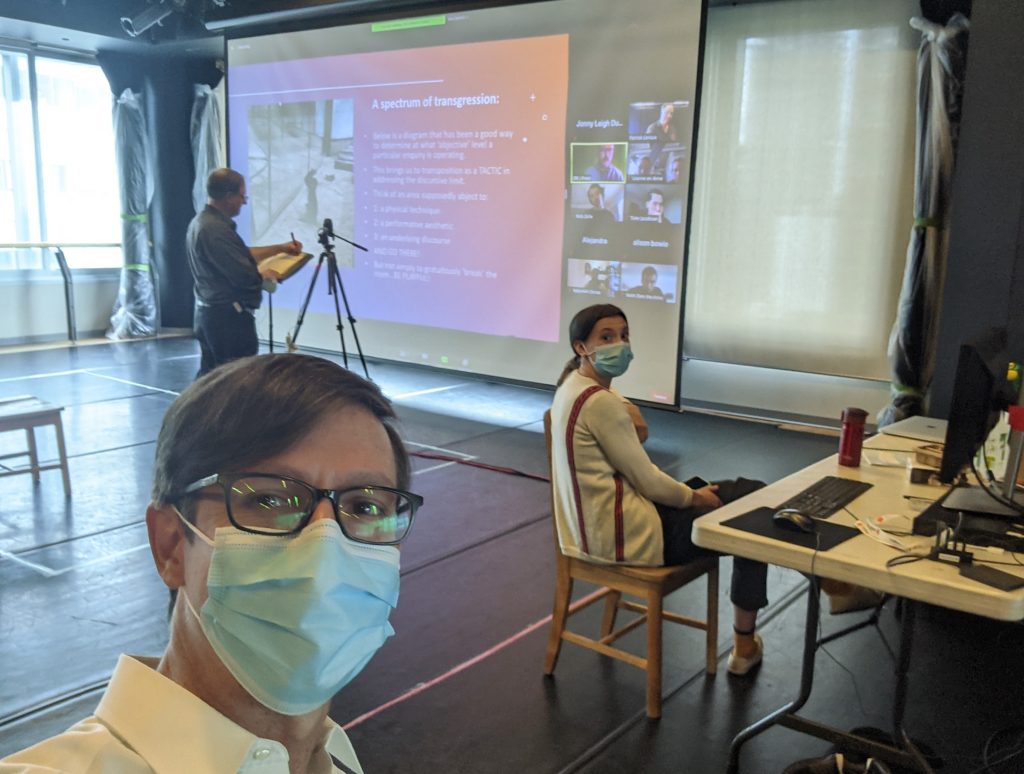 The university and live performance are finally coming back to life again. Yesterday, it felt amazing to give a research talk "in-person" at Concordia University rather than from my home office laptop. There were three humans in the room for the "Balancing Art-Making and Scientific Analysis" session of Dr. Leroux's fourth annual summer seminar dedicated to circus. The other speakers in that morning's panel — Jonathan Priest (Bristol) and Gaia Vimercati (Milan) — along with student participants from around the world were projected onto a giant screen. This was a hybrid experience that felt much closer to the pre-pandemic exchanges of ideas that I've enjoyed during the last three summer circus seminars. Just having others physically present in the room as you listen to other presentations and deliver a presentation feels much more human than the many 100% virtual conference experiences that I've had during this pandemic. We were even able to have lunch afterward to continue the conversation. What a concept!
Professor Leroux began the seminar with a reflection on his experiences adapting Hamlet to tight wire performances with collaborators from Montreal's National Circus School. Dr. Jonathan Priest then presented multiple tools, dimensions and registers of research creation that inform his activities at Circomedia in the UK. Gaia Vimercati followed with an overview of the current traditional and contemporary circus activities in Italy. She is co-director of Quattrox4, an exciting, new contemporary circus school in Milan. I presented last and gave a talk titled "Fascination at Burning Man: From Cirque du Soleil Prototype to Participatory Visual Art Installation."
It feels so good to be collaborating in-person again. Now, it's time to go see some Montreal Completement Cirque shows (July 8-18)! I've already seen Animal by Cirque Alfonse (the first in-person show at the TOHU since the pandemic began) and can't wait to see more.