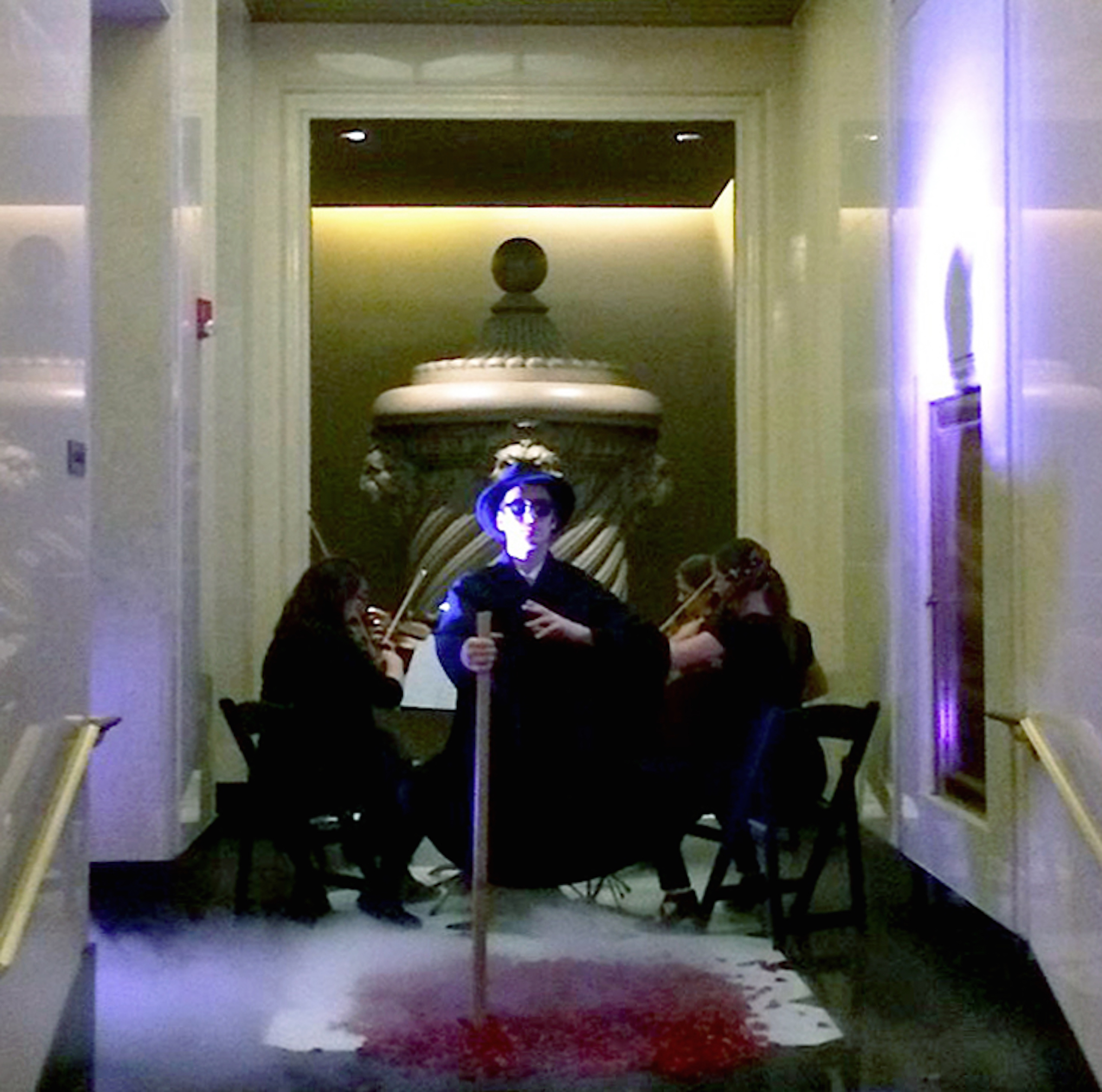 On Friday, I directed the largest magic and variety event of my career. Approximately 1,000 people attended the spectacle created to celebrate the 25th anniversary of the advertising firm Duncan/Channon. The evening was designed to provide guests with the greatest variety of magic possible (close-up, parlor, and stage). These acts were carefully crafted to fit our performance environment: the historic Adam Grant Building in downtown San Francisco. Chester, a giant fire-breathing horse parked in front of the building, made the party easy to find.
The opening piece of stage magic was the 19-century illusion photographed above. It was performed by Kyle Driggs in the foyer as guests arrived. Heather Houseman and her string quartet played a Philip Glass composition to accentuate its ethereal, otherworldly effect. Close-up magician, Noah Levine, amazed one to two guests at a time for a more intimate experience of the impossible on the 14th floor. Steve Johnson, posing as a guest, melted minds with the custom joker cards printed as souvenirs by Duncan/Channon. Roman Spinale roamed about as a fake server who magically produced bottles of champagne throughout the night. He also opened the main stage show with some sand magic. The fantastic Ralph Carney and the All Ones accompanied him and rocked the house throughout the night. Wayne Houchin performed a lovely version of Houdini's needles. Sebastian Boswell III walked barefoot on glass, mystified minds and pounded a nail into his face. Jade performed her brand of elegant stage magic. Kyle manipulated seven rings and an umbrella with supernatural skill. Bri Crabtree freaked guests out with a specially constructed clown prop that she and I designed. Richard Hartnell made a flaming, crystal ball float. Paul Nathan welcomed guests to hell in the main conference room. Kim Silverman performed deeply meaningful magic in the wizard's den past midnight. And to top it all off, Fran Houchin escaped from a straitjacket while hanging upside-down from a twenty-foot ceiling. We pulled all the stops to impress this crowd. San Francisco audiences can be tough. Here is what the president and founder of the company wrote to me after the event:
"Holy crap! It worked. It couldn't and wouldn't have without you. That impossible, improbable, way too ambitious fever-dream of a hurricane of an event. Your resourcefulness, your cool, your imagination, your diligence, your friends. Many many thanks for what some said was the best Tipmas ever." — Duncan.
Thanks, team. We did it. Everything is possible.