So many projects happened so quickly this winter that I haven't had time to properly blog about them. Over the next few weeks, I'll be catching up by posting articles with the tag #ThrowbackThursday to share some special moments.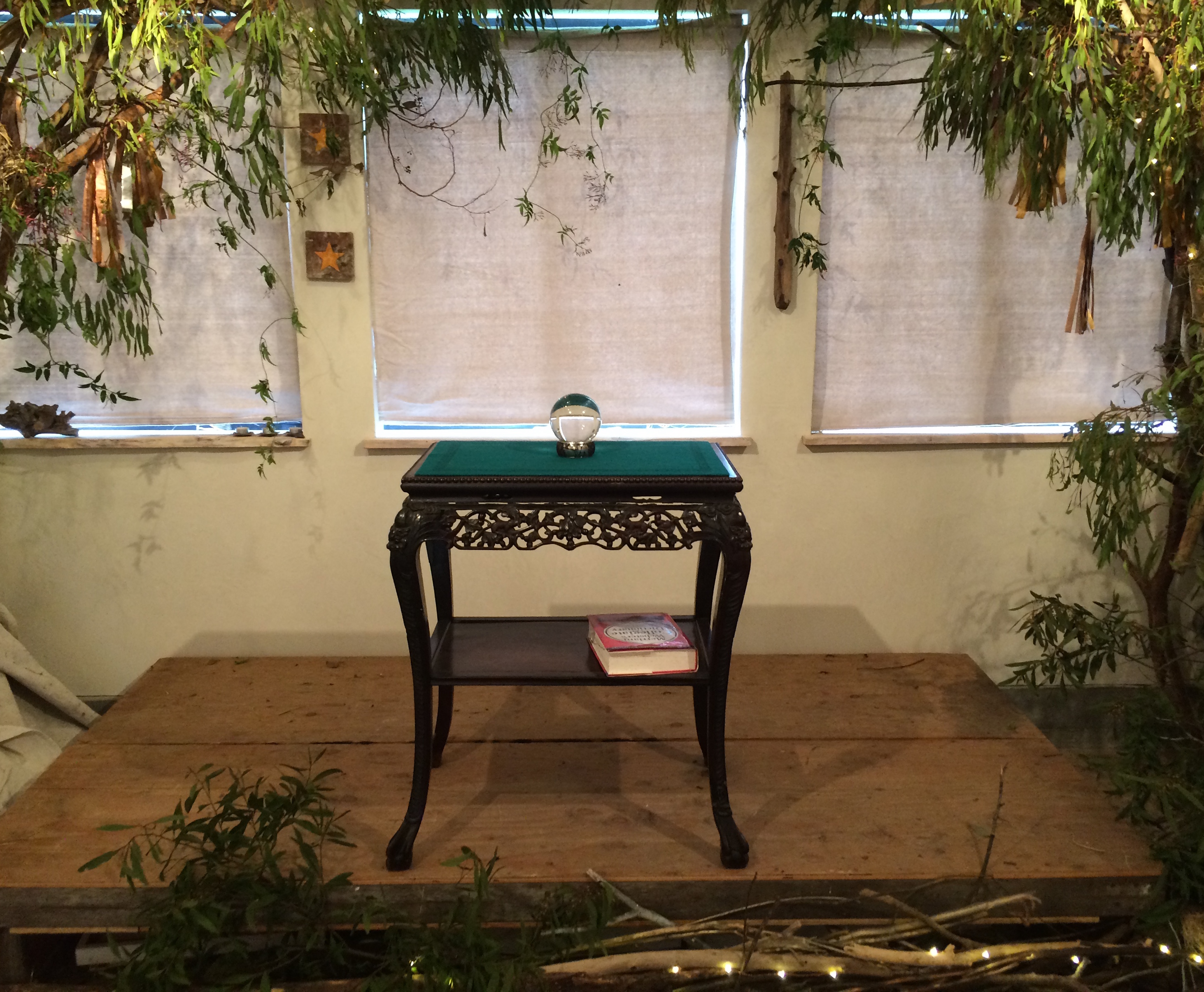 What is enchantment? According to the Oxford English Dictionary it's "the action or process of enchanting, … of employing magic or sorcery."
In preparation for a residency at Apricity Gallery, in Santa Cruz's Tannery Arts Centre, I asked friends for their own definitions. "The moment before sleep comes," said the costume designer. "Dissociation with linear time," said the jazz improvisor. "A seduction through words," said the architect philosopher, "don't forget that this is about chanting." They're so right. And, of course, friends' definitions are at least as important as the one found in the dictionary and are certainly more meaningful.
As I collaborated with painter Sarah Louise Bianco to create an evening that would create this feeling of enchantment in various ways, I thought about my personal definition. Much of this thinking had to do with Santa Cruz and the Tannery Arts Centre area itself. We weren't far from the sequoia forests, rolling hills and secret meadows on and surrounding the University of California at Santa Cruz. I knew that friends who I'd hiked through those forests with, friends who I'd spent hours reading and thinking and building fires on beaches with, would be at this show. Those environments and those people are inseparable from the years I spent being enchanted by life in Santa Cruz. I thought about this as we sent a call to artists to create art inspired by our theme, collaborated with musicians, dragon puppeteers, and created illusion installations. This personal definition of enchantment guided the scripting of my parlour magic show as well. It was one of those joyous, playful performances with a packed house. Plenty of locals came, but many made the trip from Sacramento and the Bay Area too. It was a highlight of my performance life that I will forever regret not having filmed. We did get photos thanks to many and most of all to Baranduin Briggs:
The day after the show, still dizzy with enchantment, I watched a Pacific sunset on Scott Creek Beach with my girlfriend Jessamine. It was finally the right place and the right moment to propose. Happily, she said "yes." It's good to celebrate and to reflect on these enchanted moments in our lives. Even better, is sharing them with others: