Improv comedy is about listening, acceptance and failing beautifully. In Montreal, lately, I've been watching and learning from such failure in at least two performance languages: French and Circus.
Recently, I took an improv comedy workshop at Théâtre St. Catherine: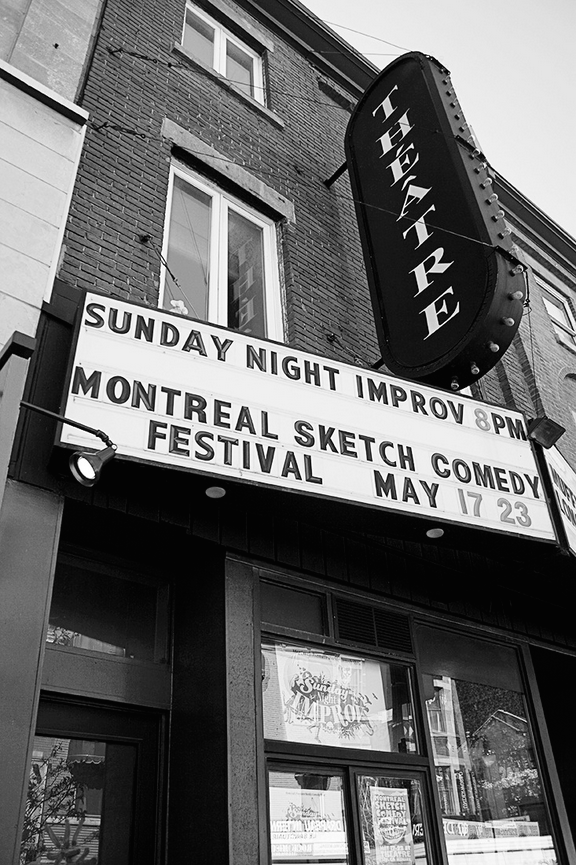 As you can tell from the name of this theatre, Quebecois French is the dominant language and culture in this city. Many Montrealers speak both French and English, but for every native anglophone there are about four native francophones. This means that there is simply more happening in French than in English here.
Therefore, it's easy to miss out on many cultural activities if you can't hold a conversation in the dominant language. I'd already attended three other improv workshops in English at Théâtre St. Catherine. Now, it was time to give it a whirl en français.
Even though I speak and write in French daily, performing spontaneous improvisation onstage in your second language is a bit terrifying.
But who cares?
Failure is necessary for improv, communication, and success in life. When the fifteen of us onstage played a word association warm-up, I had to remind myself that it didn't matter if I misunderstood a word given to me: "guirlande" / ("garland"), for example.
It was more important to say whatever response popped into my head: "Irlande" / ("Ireland").
It's ideal, of course, if you understand exactly what another player says. However, like all daily communication, language is a tool used to accomplish goals. If the goal is to react quickly to create words, imagery, and interesting associations, then why stop the fun to ask: "C'est quoi une guirlande?" / (What's a garland?)
These errors happen when native speakers interact too. What if a scene partner gives you the name of a celebrity you don't recognize? The same goes for specific jargon of whatever kind. Improvisers don't have to understand exactly who or what was said. They must do their best to listen, understand and accept.
This is true for body language and physical communication onstage as well. Reading, listening and responding to the posture, facial expressions, and pantomime of other performers is key. In fact, these visual skills sometimes trump verbal ones.
Impro Cirque a performance series combining improv comedy and circus is a perfect example of this.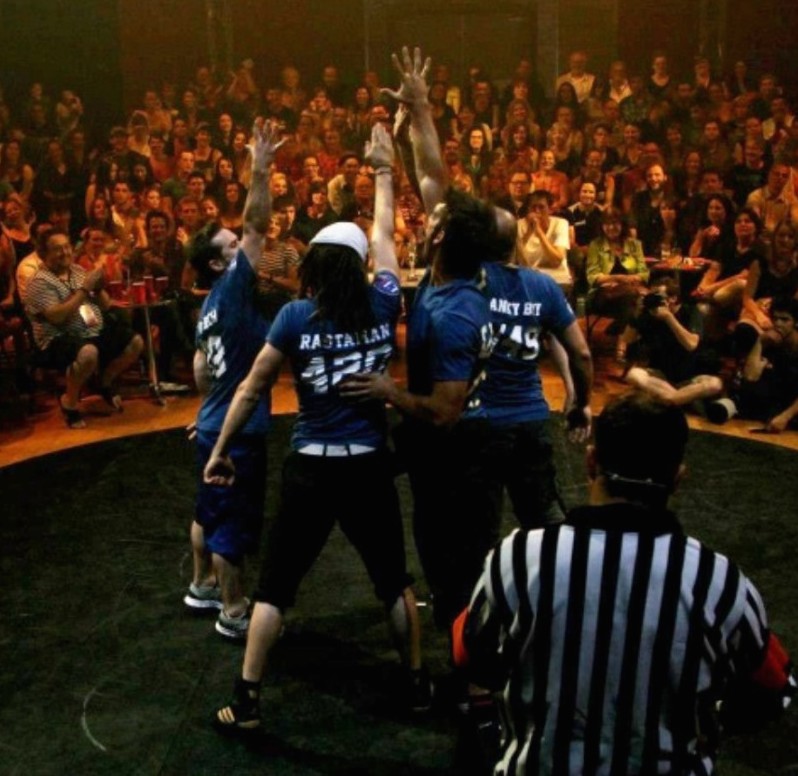 Over the course of this weekend-long event teams of circus artists play short-form improv games to score points (awarded by the audience) before either being eliminated or advancing to the championship match.
What I found particularly interesting about this mixture of two performance styles — improv and circus— is that the teams who were most successful didn't always have the most virtuosic individual performers. Instead, the teams that won expertly wove their specialties (silks, Cyr wheel, juggling, acrobatics, contortion), character, and clown together while listening and watching one another. They made fun of their superhuman talents as much as they displayed them. Above all, they entered into the aisles of the Tohu to get the audience to actively participate in the imaginary world of whatever scene was being created.
The scene that clinched the victory for this year's winners of Impro Cirque, was a spontaneous reenactment of The Lion King. When one of the team's acrobats bravely took over the band's microphone to sing "Nants ingonyama bagithi Baba . . . ," he belted it a little too loud at first. I could feel the scene teetering between greatness and fiasco, but only for a moment. As the rest of his team used their contortion, acting, and movement skills to become distinct animals from the famous Disney film, the singer hit his stride and the scene took off. The scales tipped to greatness when a bunch of the children from the audience as well as eliminated improvisors from earlier matches were pulled onstage to create a giant menagerie. The audience cheered as the human Lion King, a foolish-clown of a king, received his crown.
The champions of Impro Cirque failed together, beautifully, as a team to create that moment. They knew that it wasn't a perfect reenactment, but that didn't matter. They made-up a wonderful scene on the spot, out of nothing, and got the whole audience involved. That kind of failure is something to strive for.
In improv, it's called success.