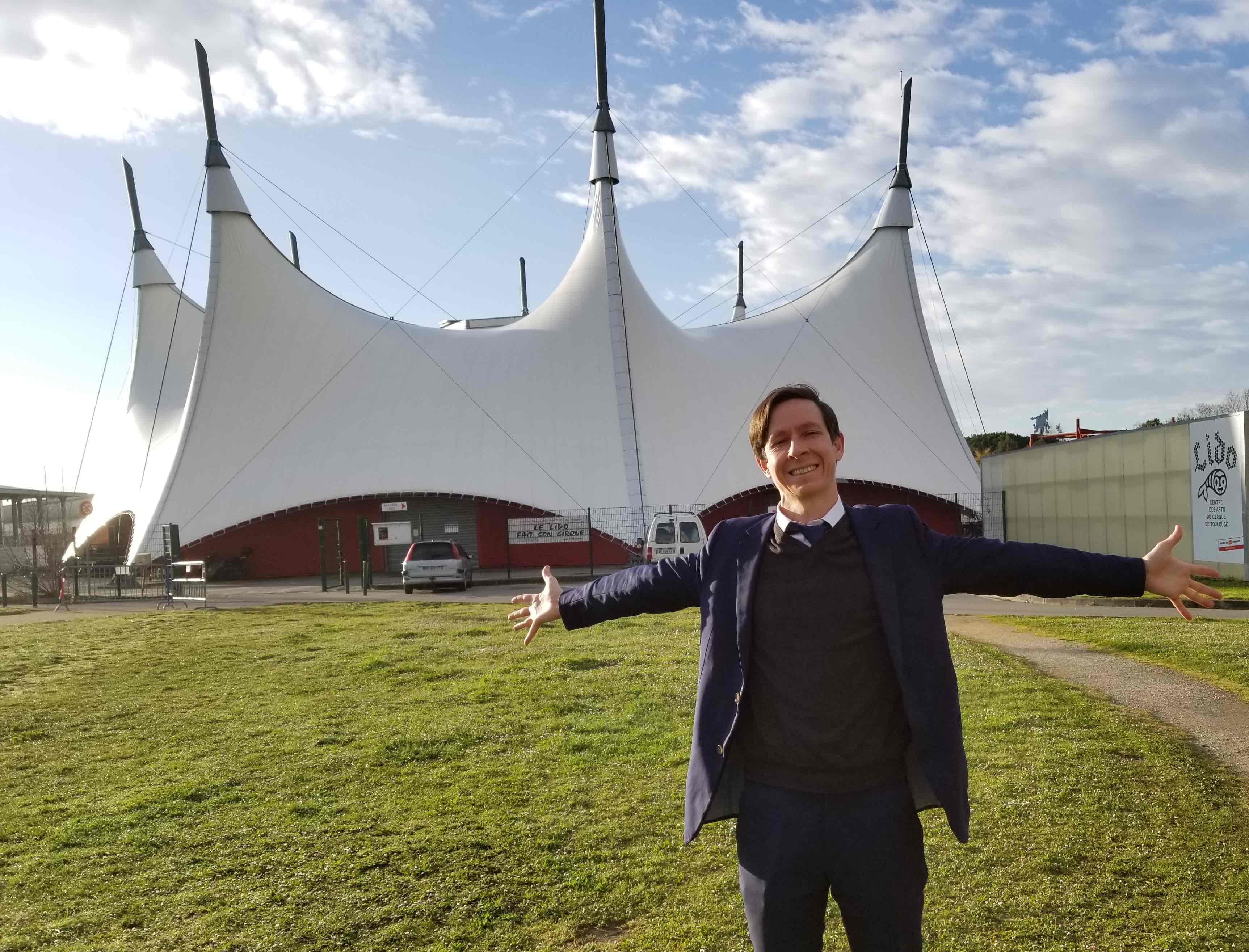 This is how much I loved teaching, presenting and performing at L'Illusion en jeu: techniques — outils — histoire / Illusion at Play: Techniques — Tools — History colloquium organized by Frédéric Tabet and friends. Clicking on the link above will take you to the full program of events. It was a thought-provoking mixture of academic and artistic explorations of how illusions are created and what is at stake, culturally, when we encounter them. I only have a few moments to make this post, so I will restrict it to only the first and final days of the week (Monday and Friday).
On Monday, March 25, Dr. Tabet kicked everything off with a thoughtful introduction and parlour magic performance exploring what the phrase illusion en jeu can mean. The goal of the week, as I understood it, was to bring artists, scholars, and performance specialists in various media together to examine how illusions in the performing arts function (in various media, time periods, cultures and more). Some of the meanings of the French phrase where expressed quite beautifully in the 16mm films screened and commented upon at the impressive ENSAV (École Nationale Supérieure d'Audiovisuel) by Sebastien Ronceray. Norm McLaren's "A Chairy Tale" (1957) was one of my favorite selections of the evening, because it expresses both the playfulness, power relations and mutual compromise that makes the experience of the impossible . . . possible.
[Please see the programme for the excellent events that took place on Tuesday, Wednesday and Thursday]
Friday, March 30, was a whirlwind. It began with an early trip to La Grenarie where, from 9:30AM to 12:30PM, I taught a magic workshop to 15 students from the professional training program at the LIDO circus school. I was impressed with the creativity and passion of this group and would like to thank Sophie Cosnard, Marie Céline Daubagna, and Francis Rougemont for introducing me to their beautiful circus world in Toulouse. After the workshop, and a speedy lunch, I met fellow panelist and FISM grand prize winner Pierric Tenthorey and Dr. Tabet in the chapiteau for our afternoon panel. It was wonderful to see such a mix of professional artists-in-training, magic academics, film scholars and others in the audience. I spoke about Houdini's performance of a suspended straitjacket escape in Toronto in 1916 and how it informed our adaptation of this stunt for the web series Houdini and Doyle: World of Wonders. Pierric then gave a fascinating talk — Dans la fabrique de l'illusion / In the Illusion Factory — about his approach to magic creation with illustrations from his projects including his one-man show: Homme encadré sur fond blanc. 
After the rich discussion that followed, we headed to the Cinémathèque de Toulouse where Dr. Tabet played the magical master of ceremonies for a series of magic performances and films that were open to the public. He, Pierric and I performed magic effects before the screening of the films with a performative reading of L'Hypothèse du tableau volé (1978) by magic historian Thibaut Rioult.
This is only a small glimpse into the intellectual and artistic exchanges made possible by this event. For the sake of brevity, I've necessarily had to leave out many of my favorite experiences. I've also neglected to mention that Dr. Tabet moved mountains to save his conference from disaster when his host university was shut down by a huge student strike in Toulouse. I felt very lucky to have been reunited with old friends, to have met new ones, and to have finally visited Toulouse — a magical city.