The population of circus artists, students, companies, programmers, academics, and industry movers and shakers in Montreal balloons during the wonderful Montréal Complètement Cirque festival every year. From July 5-15, 2018, a cornucopia of free outdoor shows (Les Minutes Completement Cirque, Phénix, and others) and indoor programming allow spectators to see world class circus for a fraction of its usual, exported, cost.
I was about fourteen when I saw my first touring Cirque du Soleil show in a big top tent in Berkeley, California. Driving from Sacramento to  The show was Quidam, still my favorite from CdS, and John Gilkey was the ringmaster. Seeing a contemporary circus show originally crafted in Quebec was a foundational experience for me and my best friend who performed magic shows with me throughout high school. It was his parents who bought our tickets and drove us to the show as a special treat. So, days like today, I remember exactly how spoiled I am to be immersed in the professional worlds of circus, magic and the flourishing capital of alternative performance arts in Montreal. To share an idea of the fascinating strata of contemporary strata that are on display and accessible every July in Montreal, I'll give a thumbnail sketch of two events I was able to attend yesterday.
After sneaking in a little early-morning editing and writing time, I headed to Concordia University where The Montreal Working Group on Circus, students and teachers from Montreal's National Circus School, attendees of the International Market of Contemporary Circus, and those enrolled in Dr. Patrick Leroux's "Experiential Learning in Contemporary Circus Practice" seminar had gathered. The morning session began with an intermedial performance (sound, tightrope, movement) lead by Claudel Doucet and performed by Sorell Nielson, Joel Malkoff, and Jesse Harris in the public space of Concordia's EV building. We then proceeded to one of the University's theaters where we watched a showing of two experimental choreography sets. The first was lead by Michael Watts and focused on the theme of precarious balance. Here is a micro clip:
All of these performance experiments (if I understood correctly) where created on a compressed timeline of 8-10 hours with the directors and students involved. Above, Katharine Scarvelis, Luisina Rosas, Louana Seclet, Angel Solis Valdez, Joel Malkoff, Sorell Nielson and Jesse Harris began an experiment that rendered invisible points of balance visible . . . almost tangible. We then saw choreographies created by these students under the direction of  clown expert Jesse Dryden, which focused on the tension and relaxation of circus being performed with and near empty, half full, and full glasses of water. The moment an empty glass was successfully passed from Luisina rolling in her German Wheel to Louana balanced on her Washington trapeze brought a cheer from the nerve-wracked audience.
A panel discussion on the topic of graduate and post-graduate circus research as it relates to circus artists and productions followed. Dr. Patric Leroux asked a panel composed of MA, PhD, and postdoctoral researchers from a variety of fields questions about their research, how they conducted it in professional artistic settings, and what such studies give to the circus arts (From left to right below: Geneviève Dupéré, Dr. Jessica Kendall, Alisan Funk, Dana Dugan, and Dr. Marie-Eve Skelling Desmeules).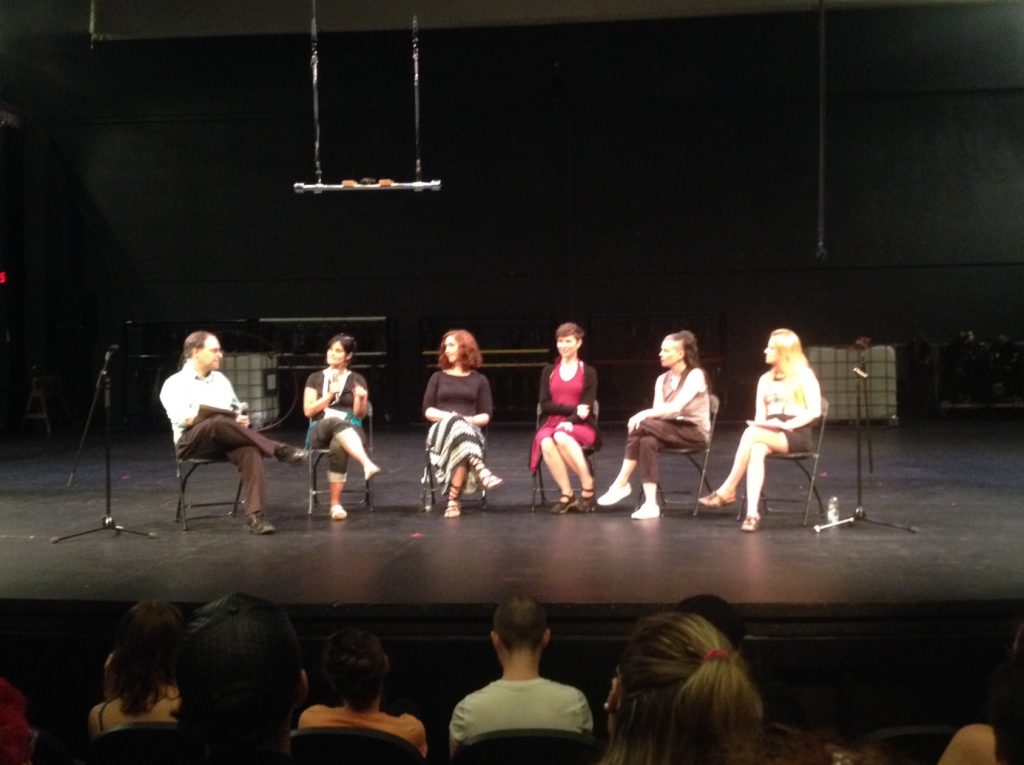 After a fifteen-minute lunch, I headed to Cirque du Soleil headquarters at the invitation of a friend to see some industrial research being conducted there with graduates of the National Circus School and international circus professionals. I enjoyed the unplanned contrast of moving from an academic practice-based research setting to an industrial one in the space of a few hours. That evening, I was lucky enough to catch the premiere of Bazaar — the new CdS touring show that is about to travel to India. For those who don't know, all CdS shows are created at headquarters in Montreal before going abroad. A small press release re: Bazaar came out a couple weeks ago: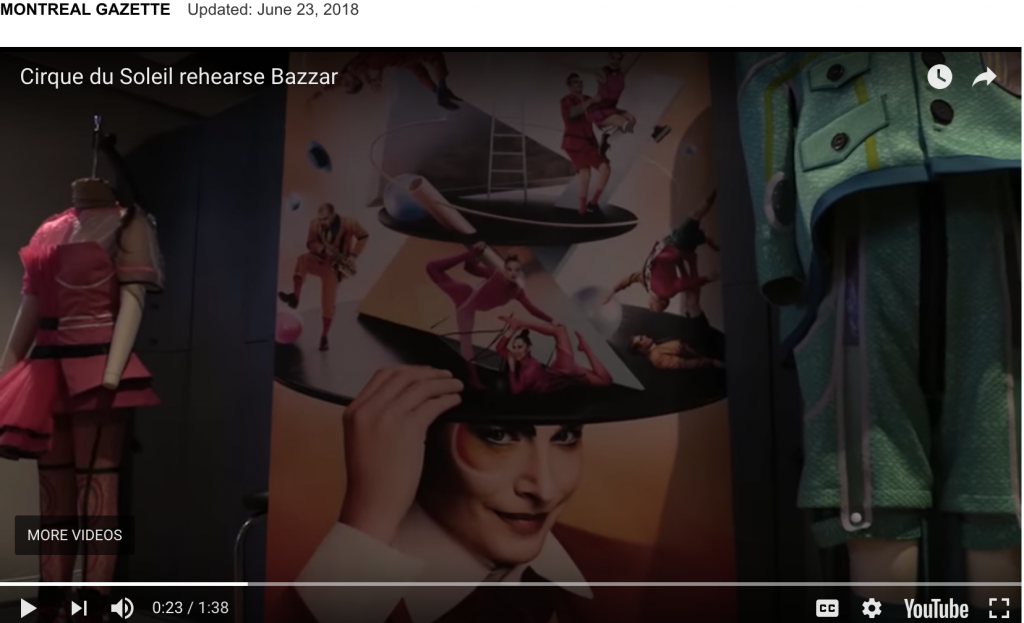 The show is an impressive spectacle that's ready to dazzle spectators here and abroad. At intermission, I was able to shake the hand of a CdS founding father, Gilles Ste-Croix to thank him for all that he's done for circus locally and internationally. My head was still spinning by the time I got back to my place in Outremont last night. It's been quite a journey from Quidam to Bazaar.
Today, it starts all over again. I'm heading back to the MICC panels, research, and then to Jaime Atkins A Fool's Errand tonight at the TOHU. A lot of coffee is making this possible: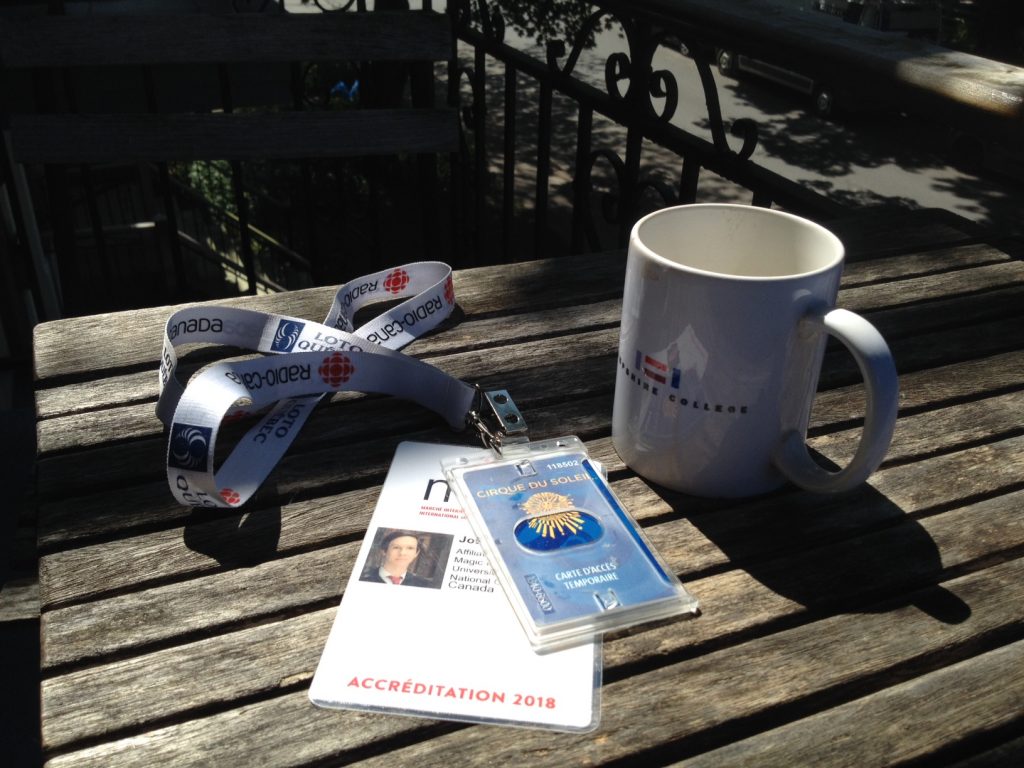 To understand performance, you must constantly watch performances.
Montreal is one of the best cities in the world to do that.
Come see for yourself sometime.