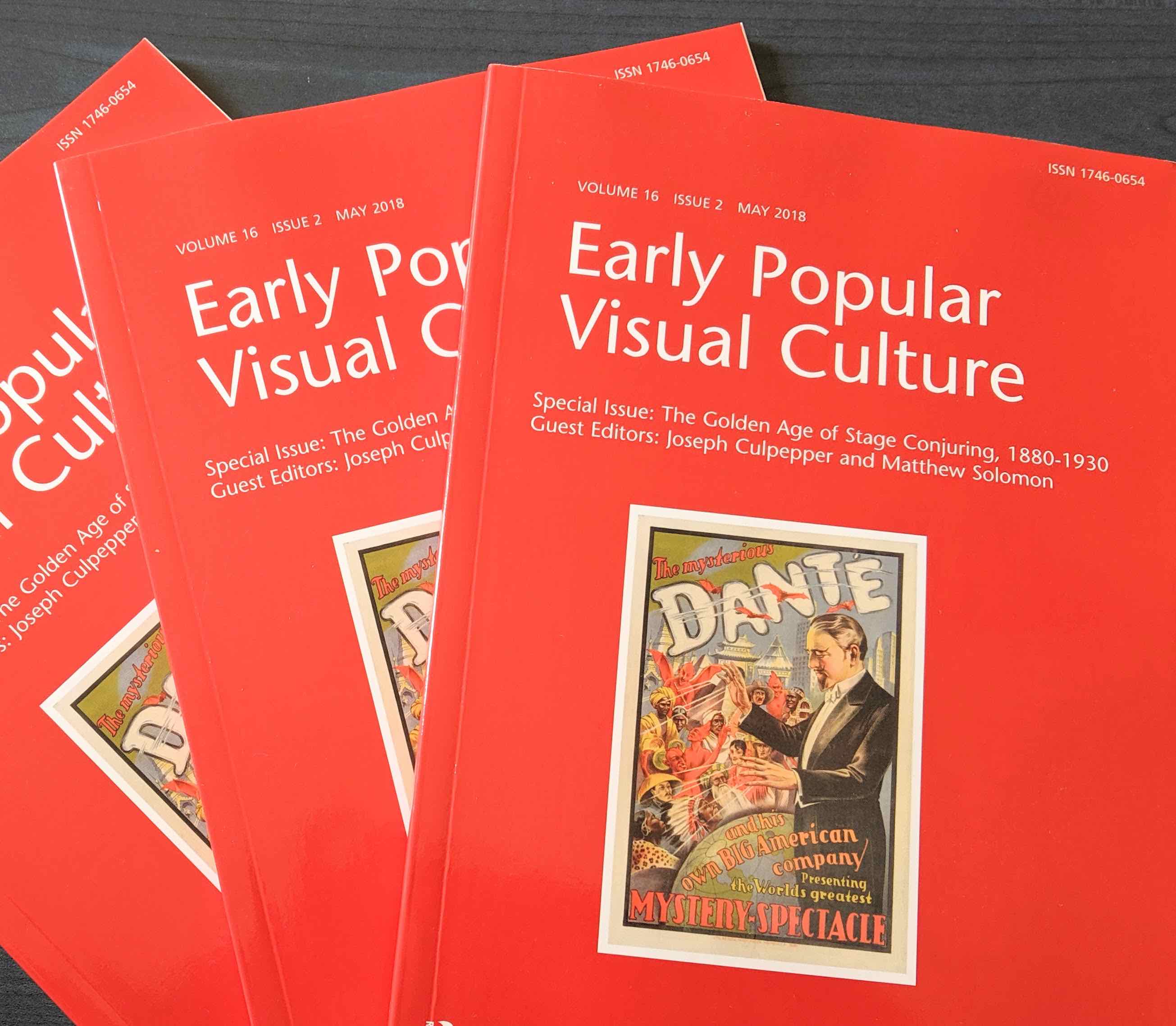 I recently received print copies of the special issue on The Golden Age of Stage Conjuring (1880-1930) for Early Popular Visual Culture that I co-edited with one of my academic heroes who specializes in early film and magic history: Dr. Matthew Solomon (University of Michigan).
The issue is chock-full of original articles written by both established and emerging scholars of the conjuring arts. By clicking the image or the link above you can read our introduction, which includes a thumbnail sketch of each piece in this peer-reviewed journal. For those who are not EPVC subscribers or who cannot access this issue through their local research library, please message me at joe.culpepper@gmail.com and I will send you one of the 50 free copies of our introduction given to me by the publisher.
Those interested can access complete issues at Concordia University, McGill University, The University of Michigan, the National Circus School in Montreal and other research libraries with significant performing arts collections.
Here is a galley proof of the table of contents:
Special Issue: The Golden Age of Stage Conjuring, 1880-1930
Guest Editors: Joseph Culpepper and Matthew Solomon
111      Editorial
Andrew Shail
Introduction
112      Toward a Historiography of Stage Conjuring: Are We Entering a Golden Age?
Matthew Solomon and Joseph Culpepper
Articles
123      The grand cycle of conjuring treatises: Modern Magic, More Magic, Later Magic and Latest Magic
William George Provan Houstoun
146      Indigenous illusionism and the global magic system
Graham Jones
157      Rupturing Illusionism: the bullet catch
Katharina Rein
172      Enchanted Masculinities: gender, modern magic, and nationalism in early twentieth century China
Tracy Ying Zhang
188      Stage Conjuring with Film: Influences and Legacies
Gwendolyn Waltz
Archive Piece
219      Behind the Bookcase: Houdini the Collector
Eric Colleary
Book Review
226     Illusions: the art of magic
Chris Goto-Jones